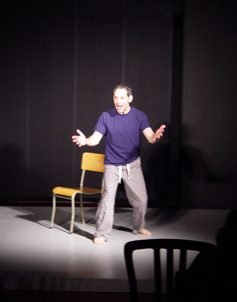 Pictured: Stephen Najera as Sparky Litman
Photo by Rusty Owen
Back to


THE CHINESE ART OF PLACEMENT
home


THE CHINESE ART OF PLACEMENT
by Stanley Rutherford
ALLEY THEATRE WORKSHOP
Nov 11-27, 2004
Production Credits
STEPHEN NAJERA Sparky Litman, Co-Producer
Stephen is a Mexican-American native of the state of Texas who makes his home in New York City. He is delighted to be making his Toronto stage debut in the Alley Theatre Workshop inaugural production. He is an actor, voice over artist and graphic designer and has collaborated with Michael Kash on productions in Toronto and New York including SO IT'S COME TO THIS, GRANDMOTHERFU**ER and the lauded POUNDING NAILS IN THE FLOOR WITH MY FOREHEAD. He has been seen off off Broadway in New York in SECTIONS 3&5 written and performed with Deke Weaver, and in Jonathan Abraham's LONG LOST with Michael Kash. Other New York stage credits include Iago in OTHELLO, the maniacal Chick in Benjamin Bettenbender's BLISS and Joe Pintauro's SOFT DUDE.
STANLEY RUTHERFORD Playwright
Stanley Rutherford is the author of fifteen plays including RED TULIPS, BAD GUMS, and GARDEN OF BLUE CHAIRS. His play BILLY NOBODY was nominated for a Helen Hayes Award for Best New Play. THE CHINESE ART OF PLACEMENT was originally presented at the Phoenix Theater in San Francisco, where it won the San Francisco Weekly's "Black Box" award for Best Play and was nominated for the Bay Area Theater Critics Circle Award for Best Original Script. It has subsequently been produced by theaters in New York, Washington D.C., Chicago, and Dallas. Mr. Rutherford is a graduate of Stanford University and lives in Sonoma County, California. He is delighted that ATW has selected Chinese Art of Placement as its inaugural production, and hopes that ATW will have a long, highly successful, and dramatically fulfilling life.
RUSTY OWEN Director
Rusty Owen resides in New York City where he recently directed Pat Candaras in her one woman show PANIC IS NOT A DISORDER for the New York International Fringe Festival and THE POETICS OF BASEBALL for the Double Helix Theatre. Other directing credits include GRANDMOTHERFU**ER (Don't Tell Mama's) and SO IT'S COME TO THIS starring Emmett Foster (Joe's Pub/The Public Theatre), both produced by Michael Kash. In Toronto Rusty directed Eric Bogosian's POUNDING NAILS IN THE FLOOR WITH MY FOREHEAD starring Michael Kash (Theatre Passe Muraille) and SO IT'S COME TO THIS (Buddies in Bad Times). Rusty is Creative Director for Broadway producer Darren Bagert whose production of Eugene O'Neill's LONG DAYS JOURNEY INTO NIGHT won three Tony awards. Best Revival of a Play, Best Actress for Vanessa Redgrave and Best Actor for Brian Dennehy.
MICHAEL KASH Producer, ATW Artistic Director
Michael is from Toronto and divides his time between Toronto and New York. He appeared this past summer in the world premier of TROUT STANLEY by Claudia Dey at The Ships Company Theatre in Nova Scotia. In 1999 Michael started Bridge Productions and was last seen in Eric Bogosian's POUNDING NAILS IN THE FLOOR WITH MY FOREHEAD (Theatre Passe Muraille 2002) for which he earned a Dora nomination for Best Actor. Other Toronto theatre credits include: HEDDA GABLER, THE AMERICAN DREAM, DANNY AND THE DEEP BLUE SEA and SURE THING. His television credits include: Sue Thomas FBI, Adventure Inc., Blue Murder and Once a Thief. New York credits include: THE MARRIAGE OF BETTE AND BOO, ANOTHER FINE MESS' (New York Theatre Workshop). New York producing credits: GRANDMOTHERFU**ER and SO IT'S COME TO THIS (Joe's Pub). Recent film: Ron Howard's Cinderella Man. Mike has also recently been accepted as aworking finalist at The Actors' Studio.
DAVID TAYLOR Set & Lighting Design
David is a graduate of the Nova Scotia College of Art and Design in painting. He has worked in several fields of the arts in Toronto. As a new graduate he sculpted body prosthetics for the special effects industry before moving into the area of specialized design and fabrication for galleries in and around Toronto including The Goodwater Gallery and Lennox Contemporary.
FREDERICK KENNEDY Sound Design
Fred recently designed the sound for Claudia Dey's TROUT STANLEY at the Ships Company Theatre in Nova Scotia. He is a drummer and sound designer and has played with a wide variety of musicians including Ben Monder, Tim Hagans, Bobby Shew, Philip Glass, Lynn Seaton and his own group Daybreak. In 2003 Frederick toured the United Kingdom and the southwest US with the Brooklyn based electronic rock band Vic Thrill. He has also collaborated extensively with theatre and dance artists on such projects as Dorian/A Rock Musical 1992-93, Extract 1994, TIGERS HEART (Ships Co.) 2002, and BRIGHTER THAN THE LIGHT OF THE SUN 2003. Last year Fred wrote, recorded and edited his first film score for the independent feature 100 Stories and a recent composition – the sound design for an experimental video, Clouds and Raindrops – was featured at the Bronx Museum of Art, in their 2004 Artists in the Market series.