eye - 11.11.04
http://www.eye.net/eye/issue/issue_11.11.04/arts/alley.html


Brave new Alley
Can Toronto theatre cultivate a new and lasting audience?
THE CHINESE ART OF PLACEMENT
Featuring Stephen Najera. Written by Stanley Rutherford. Directed by Rusty Owen. Alley Theatre Workshop, 12 Ossington (first alley west off Ossington north of Queen). Runs Nov 11-27. Tue-Sat 8pm; Thu-Sat 10pm; Sun mat 2pm. $20; Sun mat $15. 416-703-9211. www.alleytheatreworkshop.org.
BY DAMIAN ROGERS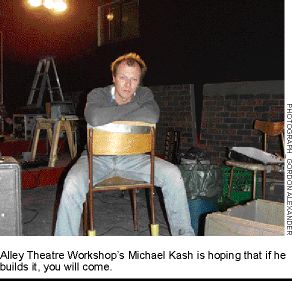 There's no way around the fact that, in the Toronto arts community, we are living in a post-Drake world. To be fair, even before the lavishly overhauled hotel reopened last spring, pioneer galleries like Paul Petro and Andrew Harwood's Zsa Zsa had set the groundwork for the now burgeoning Queen West neighbourhood. But The Drake has brought a surge of media attention in the last year, much ink being spilled discussing the possibilities for this new arts nexus, rechristening the area with multiple real estate friendly handles such as West Queen West, Beaconsfield Village, Parkdale East and, of course, the Art and Design District. No matter what you call it, if you're about to open a new gallery, bookstore, café, restaurant or bar, there seems to be no better place to do it.
And now, with the opening of the one-man show, The Chinese Art of Placement, Michael Kash, artistic director for the new Alley Theatre Workshop space, is throwing a small black-box theatre into the mix, appropriately just around the corner from Atom Egoyan's art house cinema and café, Camera. But more than simply capitalizing on the trendy location, Kash hopes to draw on the artist-driven energy around him to build a whole new environment for live theatre, the kind of environment he experienced first hand during his nine-year stint in New York.
Kash, who garnered a Dora nomination in 2001 for his performance in angry-man Eric Bogosian's Pounding Nails Into the Floor With My Forehead, could be described as a bit of an angry man himself. Though when it comes to taking on an ambitious enterprise that will surely be filled with as many obstacles as victories, a healthy dose of attitude is certainly an asset. Especially, as in Kash's case, when that attitude comes out of a passionate commitment to the work at hand. "You have to have faith and you have to have some anger. Christ, yes, I am angry. I'm a little, no, a lot pissed off at the industry in this city... I don't know who we think we're kidding with this vicarious Hollywood cele-brity," he says, frustrated by ongoing evidence of apathy and stagnation in the city's scene. "OK, we're the third largest [English-language] theatre city in the world. Well, what's that based on? Mamma Mia! and Hairspray? I mean all the power to them, but come on... they want to be safe."
Kash is less interested in safe. He remembers when he performed Pounding Nails here that a woman walked out during the performance. "I took it as a compliment, because she was listening. Maybe she heard something she didn't like. That's OK."
Kash, who has been back full time in Toronto for about a year and a half, would like to see the city put its money where its mouth is when it comes to supporting new and challenging theatre. He held a fundraiser recently and was disappointed with how much money was raised by the end of the night. Still, he remains optimistic. "They came and saw a physical space. Maybe they didn't write a cheque this time, but the wheels have started turning."
That space is an intimate, 55-seater that you get to by slipping through the alley behind Lennox Contemporary Art Gallery on Ossington, just off Queen. It's all very New York and that's just the way Kash wants it, since he's loosely modelling his theatre on the East Village's New York Theatre Workshop. "I love what they're about and I love that they artistically take risks and that they have the blessing of the city. People aren't looking for a hit, they're looking to think."
Finding an audience that is as interested in thinking as in being entertained may seem foolhardy in these days when getting an audience at all can be a challenge. Investing in the kind of theatre that may alienate audience members is a hard sell in Toronto, especially at a time when even established theatres are feeling the crunch of poor ticket sales. But this is less discouraging to Kash, who firmly believes that Toronto needs a new kind of theatre community, one that can support work that is prepared to take risks. By sharing building expenses with Lennox (the owner is a friend), Alley Theatre Workshop is able to cut some of the production costs and keep ticket prices comparatively low, making it possible to compete with movies and live music as a viable night out. While Kash is glad to see that the new opera house will soon be opening up, he points out, "It's theatre for the rich... how accessible is the opera house going to be for those who don't have $100 for a ticket?" He is determined to present an alternative.
But Kash's main mandate is a plan to open a corridor between Toronto and New York -- much like the one that exists between New York and London -- through which actors, playwrights and directors can travel freely. And if the Great Queen West Experiment goes as planned, with curators like Jessica Rose, Christina Zeidler and Pamila Matharu keeping the fare at The Drake and The Gladstone fresh and thoughtful, it seems plausible that a new kind of audience may follow, one that is hungry for work outside the mainstream. Only time will tell.
In the meantime, he's enjoying the neighbourhood. "There's so much more going on down there... for instance, the bar Lot 16. I love the vibe of that place because it reminds me of somewhere between Houston and East 4th, like Tom & Jerry's, where you stumble on and walk in kind of thing. Those are the places I crave."
With any luck, the Alley Theatre Workshop will grow into just one of those places.