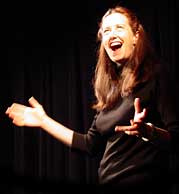 "When I first saw this production, I was deeply moved. Ann Randolph's amazing work, both as a writer and fellow performer, touched my heart and my mind so profoundly that I felt it belonged on the New York stage." — Anne Bancroft

With pathos and humor, Randolph skillfully weaves together stories about working in a women's homeless shelter and the pursuit of true love. Her painfully funny portraits of the shelter's residents, and hilarious account of her hiking trip with Harold, the accordionist of her dreams, are beautifully drawn in this poignant tale about finding dignity and grace in unusual places.

Squeeze Box just finished a smashingly successful Off-Broadway run and will be touring the US in 2005. Brooksfilms (Mel Brooks and Anne Bancroft) have optioned Squeeze Box for a feature film written by and starring Ann Randolph and Anne Bancroft.

Randolph, who has been compared to the late Gilda Radner, uses her elastic face, acrobatic voice, and attuned body language to play male and female, young and old characters. With just a chair, banjo, guitar and lights, she brings to immediate, pulsing life her tragicomic journey of discovery and self-acceptance with remarkable freshness and vibrancy.